Why did we start the Red Dot Campaign?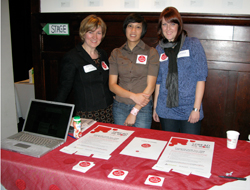 We are fortunate to live in abundance where one of our major issues is TOO MUCH STUFF! And to keep us buying more, Canadians are inundated with $19 Billion worth of advertising each year. If the old adage is true, "half of all marketing works great, if only we knew which half" why don't advertisers spend more resources understanding which half works and spend the other half supporting community?
Every household and every business must reduce carbon emissions by 30% of 1990 levels. Print advertisers must face this reality. We believe this transition can be done profitably and strategically through customer analysis, building community and adopting new technologies.
Our beliefs:
Unaddressed advertising has a five year lifespan. Consumers are demanding environmental responsibility, municipalities are legislating zero waste policies, and rising costs of printing and distribution (coupled with carbon taxes) will make it unprofitable
Data-driven and subscription-based communications will become the new standard
Electronic, mobile and broadcast communications will be seen as more carbon neutral
Our collective voice will urge advertisers to reduce the waste in their industry. Launching a successful social marketing campaign is the best way to make this happen. That means we are counting on your help to spread the word and continue to make the Red Dot Campaign a success!
Beth Ringdahl, EcoEco, Founder
EcoEco's mission statement is Economy. Ecology. Community. We help companies discover the win:win in reducing their environmental footprint. Through effective anlysis, companies can save money, improve their environmental performance and raise brand awareness by giving back to the community.
For more information about our services visit www.ecoeco.ca.
Heather Briggs, Buddha Branding, Creative Director, Brand
Buddha Branding is a boutique marketing and design agency that works with socially conscious and sustainable businesses. Our personal approach, innate creativity and savvy business skills bridge the gap between design and strategy. The results are visual identities and marketing collateral that target your customer, your values and your vision.

At the core of our values, we believe in 'good design', which includes looking into the application, lifecycle and materials used to produce any given marketing piece. Our partnership with Red Dot Campaign is another way we feel our team can contribute to helping the environment, our community and you, the end consumer!

For more enlightenment, visit www.buddhabranding.ca
Charity Zapanta, Squint Creative, Creative Director, Online
Squint Creative is a Vancouver-based company that supports the creative endeavours of its community by providing professional, affordable web production services. We use fresh web technologies to give people the ability to deliver their message in creative ways in order to reduce the overuse of printed marketing materials.

Our involvement with the Red Dot Campaign is an opportunity for us to express our core values which are: Creativity. Collaboration. Community. We are always seeking to collaborate with like-minded people who are inspired to use the web as a tool for spreading information that encourages people to become more aware of social issues.

To take a closer at who we are and what we do, visit www.squintcreative.ca.
---
Privacy Policy
Personal Information
We absolutely will not use your e-mail or contact information other than for the purposes of our Red Dot Campaign.

Aggregate Information
We will be collecting information to track trends. The aggregate information will be used to develop a business case about this community-based marketing venture. No private individual information will be disclosed.